The BioXp 3200 is an automated platform that rapidly synthesizes high quality linear DNA fragments from custom designed oligo-pools across a large complexity continuum. In a single run, this system can produce up to 31 fragments ranging from 400 bp to 1.8 kb in length. DNA fragments are ready for sequencing QC, further assembly into larger fragments, cloning into vectors and other common downstream applications. Future modules will allow for direct cloning of fragments into vectors, integrated onboard the BioXP within a single run.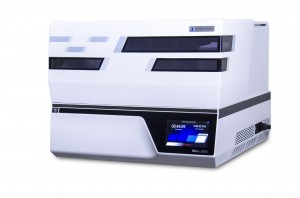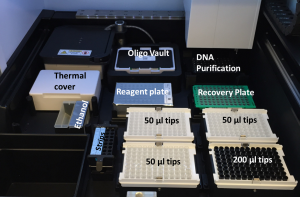 Related Links:
SGI BioXp 3200 Website and Ordering Information
SGI DNA Synthesis Ordering Portal – User must first create an account with SGI-DNA
A Note to researchers interested in the BioXP:
We recognize that groups interested in using this platform may need only a small number of DNA fragments synthesized, and thus are reluctant to use this powerful tool. We are offering to pool small orders into single plates. This will help share costs of reagents and consumables among labs, and allow groups access to the special rate of $0.12 per base pair being offered to us by Synthetic Genomics, Inc. For information and instructions on having your sequences synthesized with the group-ordering platform, contact management using the top bar links.